Motorbike and 125cc rental in Corsica
Wether you are travelling with us or coming to the Isle of Beauty on your own, you can rent a motorbike at our office. We can even pick you up at Bastia airport or at your hotel (Bastia and its surroundings). Direct flights to Bastia Poretta are available from London, Manchester, Bristol between March and October.
Our motorbike rental service is available all year round with fewer model in winter. You can send us a rental enquiry for 2014.
Our motorbikes and 125cc
Our conditions for hire
Drivers must be over the age of 20 and to have held a full motorbike licence for more than 2 years.
Drivers must not have had their licence retracted for a full two years preceding the rental.
A valid driving licence, full motorbike licence and passport are compulsory and must be shown before the rental can take place.
Our rates
For the 1 or 2 day hire, the kilometres are limited to 200km per day with a 30 cents supplement per extra km. For motorbike hire with a duration of 3 days or more, the number of km are unlimited.
Motorbike 125 CC

1 day: 80€
2 days: 140€
3 days: 190€
4 days: 240€
5 days: 290€
6 days: 340€
7 days: 370€
8 days: 410€
9 days: 450€
10 days: 490€
11 days: 530€
12 days: 570€
13 days: 610€
14 days: 650€
Extra days: 40€

Motorbike > 500 CC

1 day: 150€
2 days: 300€
3 days: 350€
4 days: 460€
5 days: 570€
6 days: 680€
7 days: 700€
8 days: 785€
9 days: 870€
10 days: 955€
11 days: 1040€
12 days: 1125€
13 days: 1210€
14 days: 1200€
Extra days: 75€
Please note: A damage excess of 2000 Euros will be reserved on your credit card upon collection of your motorcycle.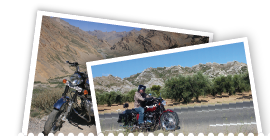 All of the motorbikes that we rent are the most current models available (we keep the motorbikes for no longer than one year)
We have a fully comprehensive insurance
We can organise for you: a complete touring holiday, accommodation, evening meals, pretty much anything you need to enjoy your holiday on Corsica
Beware
of low-cost rentals
It is possible to find other motorbike rental companies with lower prices. Just make sure that the rental company is fully registered and has all of the necessary licenses and insurance to hire motorbikes. Without these insurances and licences, you will find yourself in real difficulty should you have an accident during your motorbike hire.