Their holidays with Europe Active Motorcycling
They booked a trip with us. They are back and they tell us how it happened. You're next!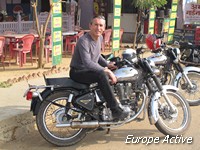 Thierry D. C.
Trip: Rajasthan by motorbike - A great Indian Adventure
Date: 11 December 2011
After Corsica and Hungary, we decide to go to discover Rajasthan, in ROYAL ENFIELD.
From the arrival the occasions of surprise are multiple: town planning, traffic, rhythm, living conditions and warm contacts of Indians.
Having bestridden our legendary motorcycles, with the protection of Ganesh, we dash more before into the discovery of a state which did not stop questioning us by its landscapes, its palaces, its forts, and especially by unexpected and colorful encounters in villages.
With a vehicle of assistance, a mechanic in the small care, a guide of the most smiling and a driver always ready to make us enjoy specialities, we were particularly cherished.
At the end of this journey, we would be back in Europe with our ROYAL ENFIELD, rather than fly.
---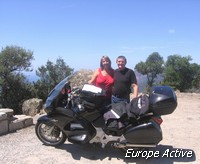 Patrice and Catherine
Trip: Corsica by motorbike - 10 days
Date: 5 July 2011
Hello,
Here are our impressions of our trip "Tour de Corse motorcycle" from July 4 to 14.
Routes were perfect, the roads very well adapted to motorcycle drive, with stunning scenery, impeccable timing, leaving us time for visits.
The accommodations were great with a plus for Porto with swimming pool (after a day of bike it's very nice), a very large room with balcony and garden. A little less for the hotel in Corte (outdated room). Employers to Burgo super nice (aperitif and digestif offered), excellent and abundant food!
In conclusion, we are very, very pleased with your services, all met our expectations and we will certainly recommend you to our many biker friends.
Patrice & Catherine
---